Directorate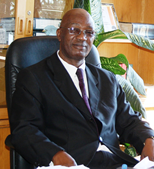 Acting Director General
Dr. Edgar S. Makande
Dr. Edgar S. Makande is the Acting Director General of ZIPAM responsible for the training and business development functions. Prior to this assignment he worked as an independent business consultant for several years in both the private and public sector domains. His portfolio included strategy development facilitation, training and Human Resources consultancy.
Prior to this, he has served as an executive manager in several organizations including Fidelity Printers and Refiners (Reserve Bank subsidiary). He has also worked as a senior consultant (Training and Development) with Best Practices (Pvt) (Ltd).
Dr Makande has wide experience in business education. He was a full time lecturer in the Graduate School of Business of the National University of Science and Technology where he taught Human Resources Management, Operations and strategic management to Executive MBA students. He has been a visiting part time lecturer to several business schools in the region.
He gained his operational, management, leadership experience over a period of eighteen years in a state corporation where he rose from a chemist to General Manager and Chief Executive Officer. He is travelled and has published several business and technical papers. He holds a BSc degree in Physics and Chemistry from the University of Zimbabwe, a masters and doctoral degrees in business administration. He currently sits on one board.